How you feel about Ivanka Trump ?
I will be proud when i tell about some people. One of them is Ivanka.
Multi personality
Ivanka trump is having multi personality
American television personality

Fashion designer

Author

Businesswoman
https://en.wikipedia.org/wiki/Ivanka_Trump
Author
Some days before i have searched some authors writing about Entrepreneurship. That time came to see her book
The Trump Card: Playing to Win in Work and Life is a 2009 book by Ivanka Trump.[1]
It is written as a self-help book aimed at helping women achieve success in work and life. In this book, Trump portrays her privilege and wealthy upbringing as a handicap, citing as an example the fact that she was unable to set up a lemonade stand as a child because the neighborhood she lived in was so posh that it had no foot traffic, which forced her to be innovative and sell lemonade to the family's household staff instead. She says that her looks and youth made people take her less seriously and underestimate her, while her family's background in the real estate field made people overestimate her knowledge and competence in the field – she cites these examples to make the point that her privilege was a disadvantage for her. The book is peppered with quotes and advice from various well-known acquaintances of hers, such as Roger Ailes and Andrew Cuomo. She says that she was catcalled by workers on her father's construction sites, and advises women to ignore such benign behavior that comes with the territory, and separate it from real sexual harassment.
I have read the book. It is really awesome and clear in her thoughts.  She aims to help women to come out of shadows in life and business. She is an example for the same. Now she is with her father to make the political path of him to be more robust. 
Visit to to India
She came to India on the global entrepreneurs summit 2017 on 28th Nov 2017.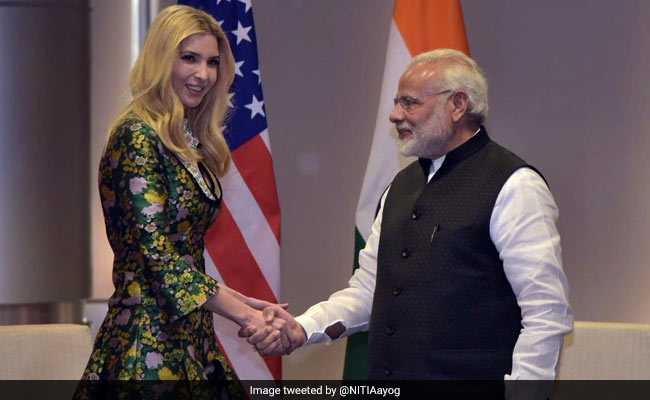 Ivanka Trump said "I am proud that for the first time ever, women make up the majority of the 1,500 entrepreneurs selected to attend."
"As a former entrepreneur, employer, and executive in a male-dominated industry, I have seen firsthand all too often that women must do more than their male counterparts to prove themselves at work, while also disproportionately caring for their families at home."
She knows each and every aspect of India, like
Know about MODI and his life history
Transformation happening in India
About the Hyderabad City – Thanks to Microsoft 's Sathya Nadella
Hardwork of Indians
The beauty with brilliant knowledge.
Now read the articles about GES Summit 2017
http://www.firstpost.com/india/ges-summit-2017-highlights-ivanka-trump-lauds-modis-transformational-journey-pm-hardsells-india-4232293.html
http://www.businesstoday.in/current/economy-politics/global-entrepreneurship-summit-2017-live-pm-modi-hyderabd-ivanka-trump-ges/story/264892.html